Books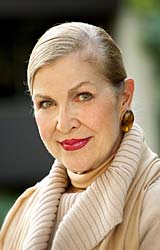 [Photography by Nathaniel Taylor]
Author Carol Soucek King has long been interested in the ability of the arts to uplift and empower human life and the crucial role they play in our physical and mental well-being.
Published in November 2012, Under the Bridges at Arroyo del Rey: The Salon on the Spiritually Creative Life is an inspirational book appealing to a public searching for a deeper and more meaningful life. Its focus is on the power of positive thought to lift one out of the mundane and into a more fulfilling existence. Capturing the essence of each of the book's ten "Tales" are the sensitive sketches by artist/illustrator/book designer Miller Yee Fong. Available through www.amazon.com and www.createspace.com. Also can be read on Kindle.
The full color coffee table type books she has written are At Home & At Work: Architects' and Designers' Empowered Spaces (1993) [first released as Empowered Spaces], Furniture: Architects and Designers Originals (1994), and The Creative Touch series (Designing with Tile, Stone & Brick/1995, Designing with Wood/1995, Designing with/Glass 1996, Designing with Fabrics/1996, Designing with Light/ 1997). In 1997, her Empowered Gardens: Architects, Designers & Landscape Specialists at Home and Gardenscapes: Designs for Outdoor Living were published, soon followed by Feng Shui at Home and Designing with Spirituality. In 2006, her Unique Homes: Personalize Your Home Through Good Design was published by HarperCollins' Collins Design. Dr. King's previous design/architecture/garden books were published by PBC International, Inc. and distributed internationally. Her poetry has been published by International Forum.

---
CAROL SOUCEK KING MFA, PhD © 2002-2013 All rights reserved.